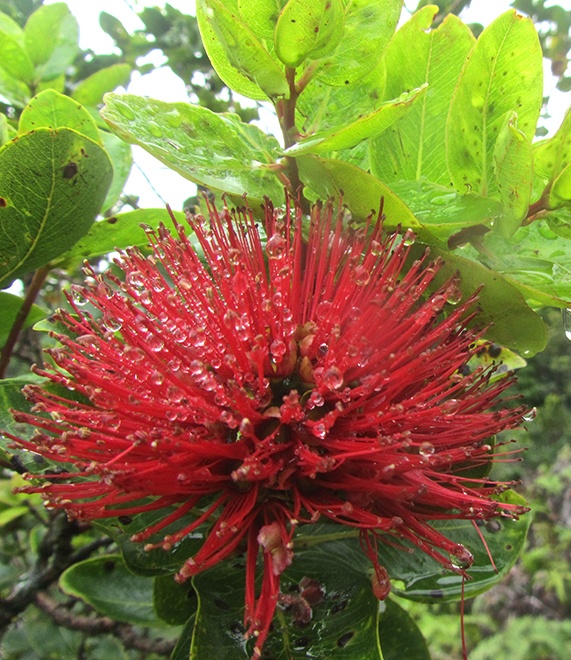 Readers Rating

Rated 5 stars




5

/ 5 (

Reviewers

)

Spectacular
---
Tips To Help Stop the Spread of Rapid ʻŌhiʻa Death (R.O.D.)
The Department of Land and Natural Resources-Division of Forestry and Wildlife and the University of Hawaʻi Cooperative Extension Service have received the support of STAH for their proposal to develop a Rapid ʻŌhiʻa Death (ROD) decontamination training. Training local tour operators on best practices for ROD decontamination will have an exponential effect because each operator hosts hundreds of visitors each year. STAH is proud to work with this state agency and this educational institution to help protect Hawaiʻi's unique, natural environment.
Stopping Rapid ʻŌhiʻa Death (R.O.D.) from spreading is of great importance all inhabitants (both animal and plant) of the islands and beyond, so PLEASE DO THE FOLLOWING to prevent spreading Rapid ʻŌhiʻa Death (R.O.D.) fungus.
DON'T TRANSPORT PLANTS between islands
Disease spreads quickly when introduced into a pristine environment.
Making Advances In The Battle
DON'T MOVE ʻŌHI'A WOOD OR OTHER DEAD PLANTS.
Something caused them to die and it's not a good idea to move the dead wood without knowing what caused the plant's demise and can spread R.O.D. and other nasties to plants that normally would not be exposed to such pathogens.
VOLUNTEER
Future Forests Nursery (or another seed conservation lab throughout the islands). Help prevent the extinction of Hawaii's rare plant species. Learn from the pros how to collect and store seeds, both common and rare species, for future re-forestation projects.
AGAIN, PLEASE VOLUNTEER!
VOLUNTEER to help RESTORE native forests that have been decimated by R.O.D. and non-native invasive plant species.
DONATE $ NOW
DONATE $ NOW to OhiaLove to help stop this "fungus among us"! Money is needed immediately to do important research which will determine where R.O.D. came from and how to combat this fast-moving fungus!! Give until you SMILE!!!!
WASH CLOTHES in HOT, SOAPY WATER
&

DRY ON HIGH

Once you've been exposed to a diseased ʻŌhiʻa forest be sure to WASH, WASH, WASH! And don't skimp on the detergent!
INFORM / EDUCATE OTHERS of how to STOP DISEASE
INFORM / EDUCATE OTHERS of how to STOP DISEASE from spreading when hiking, biking or off-roading in infected areas by directing them to www.rapidohiadeath.org so they can learn and spread the knowledge of how to stop the spread of R.O.D. and other diseases.
DON'T PLANT NON-NATIVE PLANTS in native forests.
SPRAY ALL GEAR BEFORE AND AFTER
(including SHOES) with 70% rubbing alcohol (a proven cleaning measure).
STAY ON MARKED TRAILS
Going rogue and blazing a new path is extremely destructive to native species and can spread disease and invasive species quickly to parts of the forests that are already vulnerable from other pollution like air pollution and pesticides.
TELL OTHERS.
Spreading the word about R.O.D. will help stop it from spreading.
IF YOUR CAR IS DIRTY, WASH IT WITH SOAP
(especially if you've been off-roading in infected areas)! Use a pressure washer with soap to CLEAN ALL SOIL OFF of the tires and vehicle undercarriage. By following these simple practices, we can all help to ensure the survival of ʻŌhiʻa for our future!
Hundreds Of Thousands Of Trees Killed
Scientists Recognized In Fight Against Rapid Ohia Death
UH Researches making Advances In Battle Against Rapid ʻōhiʻa Death
Learn More!
Continuing ecducation can be found on the Learn more on the CTAHR Website.