Become A Certified Sustainable Tour Operator
Join the only third-party sustainable tourism certification in Hawaiʻi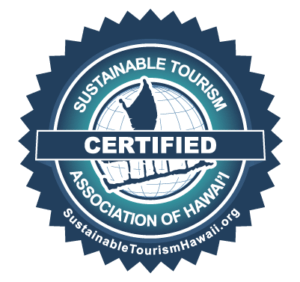 What is sustainable tour operator certification?
Sustainable Tour Operator certification via the Sustainable Tourism Association of Hawai'i (STAH) allows companies to be recognized for their commitment to sustainable operations. STAH is the only third-party sustainable tourism certification in the United States. This annual certification evaluates our local partners' ongoing commitment to natural resource stewardship, cultural education, community outreach, and more. We have recently aligned with Travelife, enhancing global recognition for certified operators. The STAH certification stamp demonstrates credibility and offers defense against greenwashing, all while communicating your company's ongoing commitment to social and environmental responsibility.
What are the benefits of certification?

Benefits include:
Attain your company's sustainability goals & help our islands flourish!

Access on-demand, internationally-accredited educational & training opportunities for you & your staff

Undergo a professionally guided sustainability assessment, create a personalized action plan & enjoy access to ongoing sustainability coaching & auditing

Use a globally-recognized certification logo for marketing

Enjoy special prioritization by industry partners & organizations throughout Hawai'i

Your link-able company profile will be added to our website & our interactive Hawai'i Travel Planner

Join a network of 40+ certified operators statewide (click here to see our certified tour operators)

Pursue internationally accredited Travelife certification
How do I become certified?
General overview of the process:
Appoint a Sustainability Coordinator (SC) & pay fee

SC completes training (an ~8-hour time investment)

Trained SC completes your company's sustainability checklist with the help of a certified STAH coach

A sustainability audit of your business location is conducted. If you pass, an auditor joins a tour for further assessment.

The auditor drafts a report either recommending certification or indicating needed improvements. An action plan is then developed on how to achieve certification.

Upon earning full certification, organizations and other partners (eg: HVCB) are notified, & certification seals are presented to you for your use in marketing, etc.

Welcome to our 'ohana!

Within 8 months of certification, one of our Pono Traveler "secret shoppers" will also evaluate one of your tours

We re-certify annually each fall: we will conduct a desk audit to ensure certification requirements continue to be met annually, and we'll help with any new sustainability goals. Your annual fee will be due at this time. 
What is the cost of becoming certified?
The certification process ranges depending on the size of your company and your company's needs.
# of full-time equivalent employees
1-5 – $250
6-14 – $600
15+ – $1,500
The best way to identify the potential cost is to fill out the form so we can get connected! We recognize each operation is unique and we are open to tailoring an option that works for your business.
In September 2021, we received new funding from HTA. In the spirit of kākou, we have decided to devote a significant chunk of our budget to make your company's journey toward sustainability a little more affordable!  So, keep calm and certify on!
Connect with us to be eligible for possible grant funding!
Certification Program Objectives
EDUCATION
Educate commercial tour operators and community stakeholders on certification and best management practices for the responsible use of natural and cultural resources.
CREDIBILITY
Ensure credibility using third party assessment for tour providers whose operations positively affect the natural and cultural resources, contribute to conservation, and help sustain local communities.
AWARENESS & GROWTH
Increase visibility of sustainable tourism operators and raise awareness amongst visitors.