Become A Certified Sustainable Tour Operator
Join the only third-party ecotourism certification in Hawaiʻi.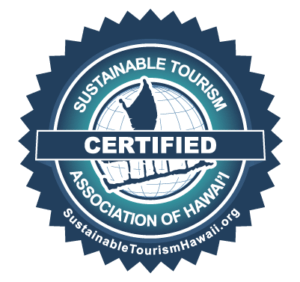 Aloha To Operators Across The State
We're struggling too, so can only imagine what you're going through during this difficult COVID-19 pandemic. As we navigate these uncharted waters, we'll be operating with the goal of all of us making it through stronger than ever.
To ease your mind as far as STAH is concerned, we've decided to waive your annual recertification and membership renewal fees for this year. Your certifications will be automatically extended through to next year. Since we won't be conducting our usual evaluations of your companies this fall, the Pono Traveler rates won't be charged to you either.
Fees will still be applied to those seeking certification for the first time or those who require Travelife accreditation (achieved through the certification program). 
We'll keep you on our website as members through 2021, and re-visit the whole process next year. We'll still be working hard to promote sustainable tourism in Hawai'i when it is appropriate to do so.
Certification Program Objectives
Certification offers a comprehensive assessment program that:
EDUCATION
Educate commercial tour operators and community stakeholders on certification and best management practices for the responsible use of natural and cultural resources.
CREDIBILITY
Ensure credibility using third party assessment for tour providers whose operations positively affect the natural and cultural resources, contribute to conservation, and help sustain local communities.
AWARENESS & GROWTH
Increase visibility of sustainable tourism operators and raise awareness amongst visitors.