Gain A Safe Travels Stamp
Aloha! Mahalo for your interest in the Safe Travels protocols and stamp. The protocols include specific steps that tour operators can take to get ready to resume operations, prepare and communicate with staff, minimize risk of virus transmission in the workplace, and rebuild and promote trust and confidence among guests.
The Safe Travels protocols were developed by the World Travel and Tourism Council (WWTC) to provide a global standard of health and safety guidelines for the tourism industry. They follow current guidelines from the World Health Organization (WHO) and Centers for Disease Control and Prevention (CDC), and are supported by the United Nations World Tourism Organization (UNWTO) and the International Chamber of Commerce (ICC). The protocols and stamp are in use in 100 countries around the world.
This is the first safety and hygiene stamp to ever be developed on a global level. Companies who promote themselves now as offering the safest tour experience will have an edge as visitors return to Hawaiʻi.
The Sustainable Tourism Association of Hawaiʻi (STAH) was granted the authority to issue the stamp to local tour operators. Interested operators need to complete a pre-recorded COVID-19 safety training, the Safe Travels checklist, and agree to the Terms and Conditions. Upon completion, we provide operators with the stamp to display on their website and other promotional materials. The stamp will feature the WTTC logo, the company's logo, and the STAH logo to promote local visibility and recognition.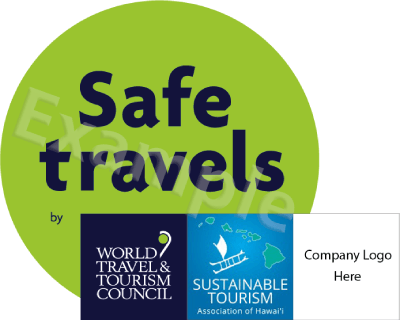 STAH has issued the stamp to these companies after reviewing their protocols: Body Glove Hawaiʻi, Pearl Harbor Tours, Hawaiʻi Tours and Activities, Valley Isle Excursions, Sea Paradise, Kailua Beach Adventures, Fly Shuttle & Tours, Kailani Tours, Kualoa Ranch, and Forest Bathing Hawaiʻi.
Gain recognition and add your name to the list by filling in the form below, review the training and then fill out the stamp application form. If you pass, you will receive a notification with a custom graphic with your logo on the Safe Travels Stamp to be used anywhere you want.