TRILOGY EXCURSIONS
Explore MAUI. Sail Trilogy.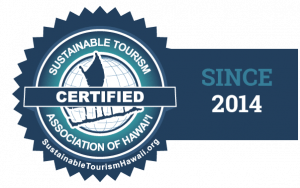 As Maui's oldest family owned and operated sailing company (est. 1973) we take seriously our role as a leader in the ocean recreation industry and the environmental community. In an independent survey of over 11,000 Maui visitors Trilogy was chosen the #1 Activity on Maui and the 2007, 2008 & 2009 Maui News Readers Poll chose Trilogy as the island's #1 Maui Sailing Company! We are especially proud to have been given the 2008 Living Reef Award—one of the few activity companies in Hawaii to be so honored. We are one of only three companies to be awarded the "GOLD" certification by the Sustainable Tourism Association.
And while we appreciate this recognition we still feel it is important to earn our reputation one guest at a time! Our goal is to make you feel like family. Many people notice the way our crew knows each guest by name before breakfast is finished.
We have one of the safest sailing catamarans in Hawai'i, that is only a small part of the reason folks come back to sail with us year after year.
TRILOGY EXCURSIONS CERTIFICATION HIGHLIGHTS
Your environmental and community outreach programs are extensive and show a clear desire to give back. Keep up the good work!
Great job choosing a new location which is powered by solar power.
The effort you took to evaluate your passenger mile rates was very good. There are programs which you can track fuel consumption over time allowing you to track usage habits and find opportunities for improvement.
Very good job using pay incentives tied to training and continuing education. Kudos also for offering opportunities for employees to request funding for educational opportunities.
Good job having guests sign environmental pledge before heading to Molokini.
Really liked the use of the hydrophone as a supplement to the whale talk given.
Good job moving away from disposable cups to reusable acrylic.